Have you ever dropped and "done twenty," a quick set of abs, or taken a class on one of those quilted mats at your gym? They're usually blue, purple, or teal and smell like gym cleaner with a faint hint of rubber fitness equipment, and strong undertone of b.o. 🤢 Barf
There is nothing wrong with borrowing the mat from your local gym, but 2 tips if you do:
Clean the mat BEFORE you use it (this keeps you safe)
Clean the mat AFTER you use it (be a kind human)
If the communal yoga mat foreshadows what might happen to your personal mat why do you even need one to begin with?
So you're not putting your hands and face where your fellow gym member is putting their feet and butt. 😝 yuck!
If you're on the hunt for a new yoga mat you may be overwhelmed by ALL the choices. So how do you choose the best yoga mat for you?
Do research, and make an educated choice. A yoga mat provides:
Space – It creates a designated space for YOU to do your thang
Safety – It provides a little padding, a little traction, and a lot of sanitation by keeping your hands, feet, and face off of the floor (or communal gym mat)
Sanctuary – You can practice, meditate, sleep, laugh, cry, sweat, eat, and do anything you want on your mat. The relationship and time you spend on your mat is yours, and it's often referred to as prana (life force or energy).
Below I give you my favorite choices broken down by category. You may know your priority, but don't forget to check out all the options; you never know what other options might also be a good fit for you.
Note: In yoga your mat is sacred. No one should step or touch your mat without asking (if you give a yoga teacher permission to assist you it comes with the understanding that they may step on your mat). And no one (really not even yourself) should step on your yoga mat with shoes on.
Best yoga mats for your Budget
Best yoga mats for your Style of Yoga
Usually, this is where I put my affiliate link disclaimer. Yes, the links below are affiliate links, but this post is not sponsored by any of the companies below. Some of the mats mentioned I have been gifted, others I have purchased, and some I have used at my local gym or studio. Below is my honest opinion, and yes if you use the links I may or may not get a commission and you might get a discount.
Best budget mat ($5 – $50)
I know "budget" and "beginner" are not synonymous so I'm going to break this section up into those two parts…
New to yoga
If you're like me, when I was new to yoga, I didn't want (and couldn't afford) to drop a ton of money on equipment, nor did I have any idea what style of yoga I wanted or liked to practice. There are so many styles and types of yoga it doesn't make sense to go all-in on a premium yoga mat only to find out you prefer to do yoga in a chair or in bed. So what should you get? The same inexpensive mat most gyms buy in large quantities.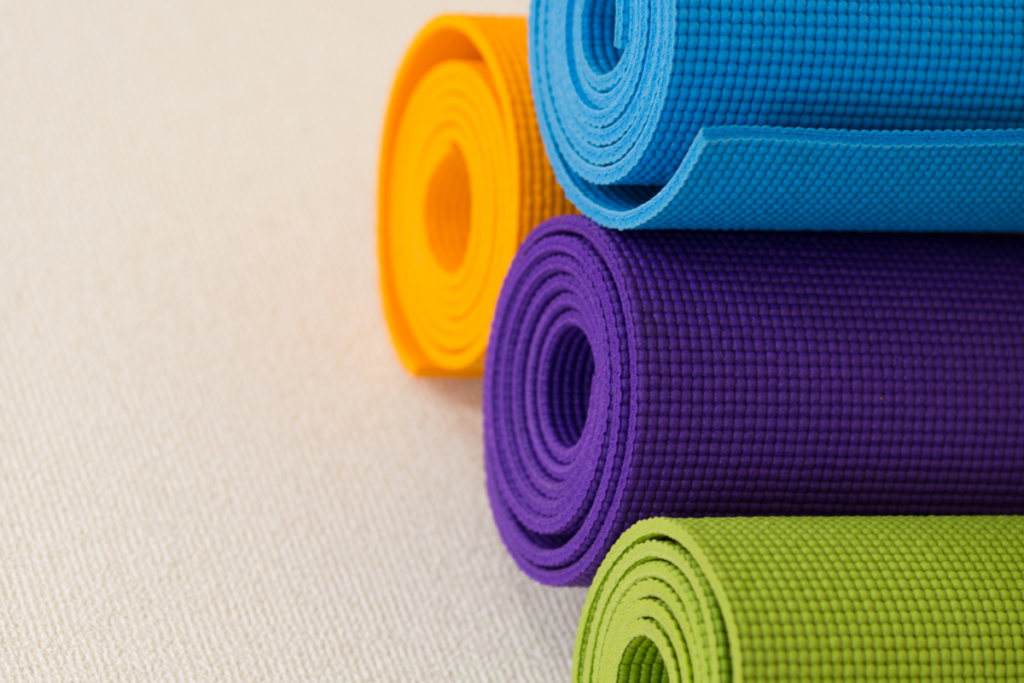 These come in solids and prints, in sizes mini to extra large. You can buy them at dollar stores, sports stores, online, and everywhere in between. They range in price from about $5 to $40 depending on the size, design, and brand.
So what's the difference between the variety? Mostly marketing and looks. Some claim to be free of certain TYPES of plastic, but nearly all of them are made of one form of plastic or another. My suggestion is to pick one in a color (or design) you enjoy and at a price point, you are happy to spend. Check out Gaiam's collection on amazon.
For the well-practiced budget conscious
There are two options if you want to move beyond the standard quilted plastic mat.
Cork yoga mat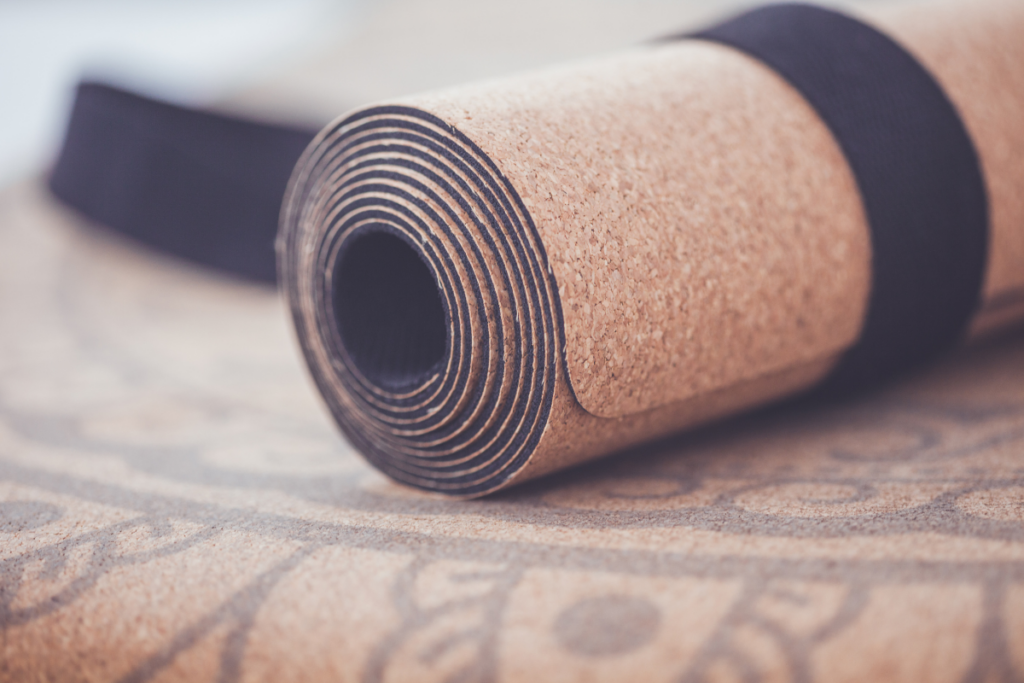 Cork yoga mats are a great economical option. You can find several options on amazon for less than $40, and there are a lot of pros to cork:
Antimicrobial
Allergy-friendly
Renewable resource
But there are a few cons as well:
Not the most durable – The soft cork can be damaged if pressed against your keys in your mat bag. If it gets too dry over time pieces can start to pop off.
Slippery when dry – It's great for hot yoga, and perfect for a Bikram! But if you're doing hot vinyasa yoga and you aren't sweaty, your down dog may turn into a faceplant.
Layer up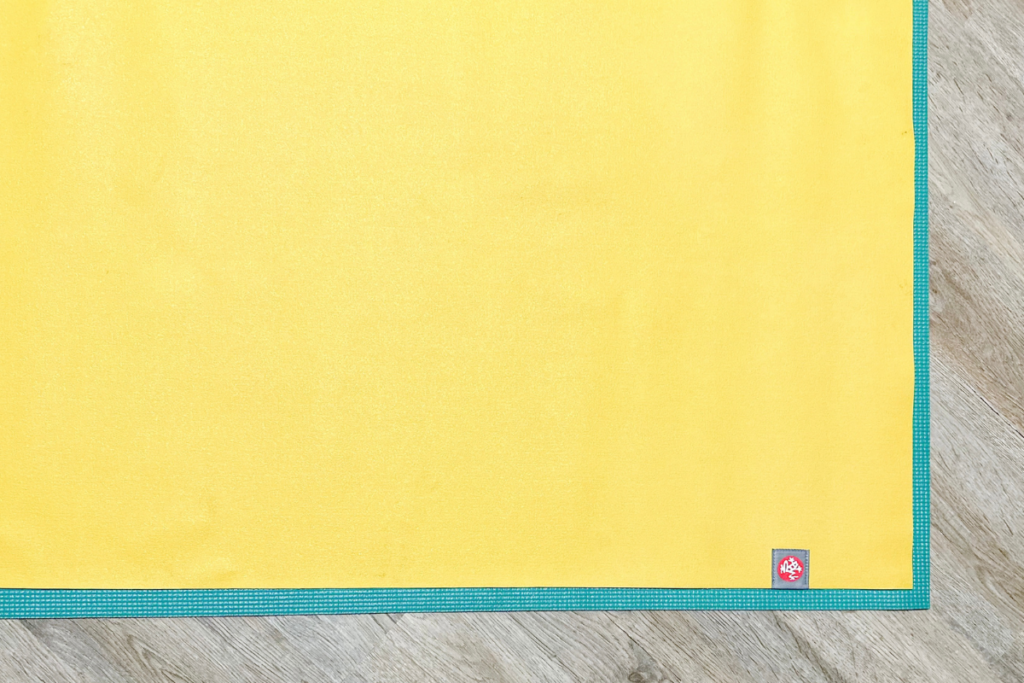 Buy a travel version of some of the most premium yoga mats like the Manduka Eko Superlite or the Jade Voyager mat (both less than $50) and layer it on top of another yoga mat. Place the premium mat over a communal mat at your gym or studio, or on top of another mat you may have upgraded from.
This is what I do when I have to walk a long distance from my car to where I'm teaching. It's half the weight to carry yet still provides the support and safety needed for a vinyasa yoga practice.
Best midpriced mat ($50-$80)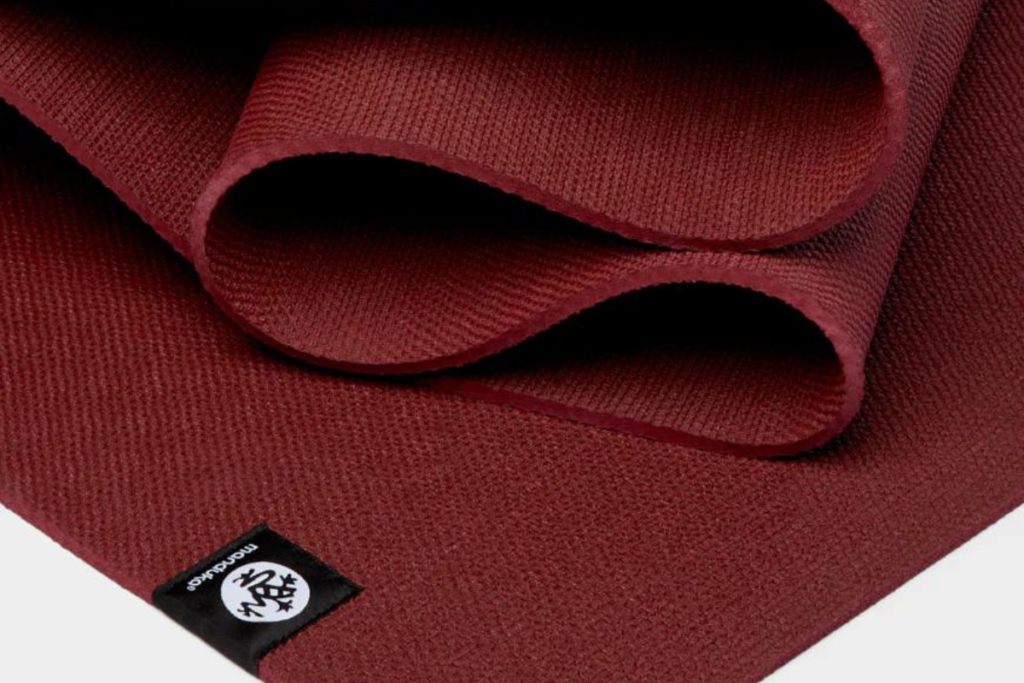 I get this is the narrowest price band here, but there's only one mat in this price range that stands out: the Manduka X (15% off with JENBELLYOGA). Honestly, if I had to buy a mat today, this is the one I would buy. It's grippy, it has the right amount of padding, and it's very durable. It also weighs less than both of the 4mm versions of Manduka's Pro and Eko lines. The downside? It only comes in 2 colors 😒.
Best premium yoga mats ($80+)
There are a lot of big players in this category, and many people are loyalists to one brand or another. I am no different. To be totally honest, I do have a preference to Manduka (but it's not the right fit for everyone or every style). My first premium yoga mat was a Manduka Eko and the sweat, tears, and prana I poured onto that mat made it extremely difficult to replace it in the end.
Needless to say, there isn't just one premium yoga mat that I would recommend. Before you pick one, here are a few things to think about:
Where do you practice? Studio, home, gym, park, or beach?
Do you transport your mat? If so how far do you carry it?
Where do you keep it? At home, in the car, at the office?
Buying a premium yoga mat is an investment (some would say an investment in yourself). Here are a few money-saving tips to get the mat you desire for a little less:
Sign up for the brand's newsletter for a promotional coupon.
Turn to social media influencers for discount codes (check out the ones I have here).
Buy the clearance colors/designs.
Wait for a sale.
Ask friends and family for the mat (or gift cards) as a gift.
Biggest money-saving tip:
Buy the "light" version of the same mat Unless your mat is staying on your floor at your home rarely to be moved, I highly recommend buying the thinner version of the mat for tens of dollars less. If you desire more padding, place a cheap mat underneath. It'll be cheaper, and the combined weight is still lighter than the full version of most of these mats.
Best Grip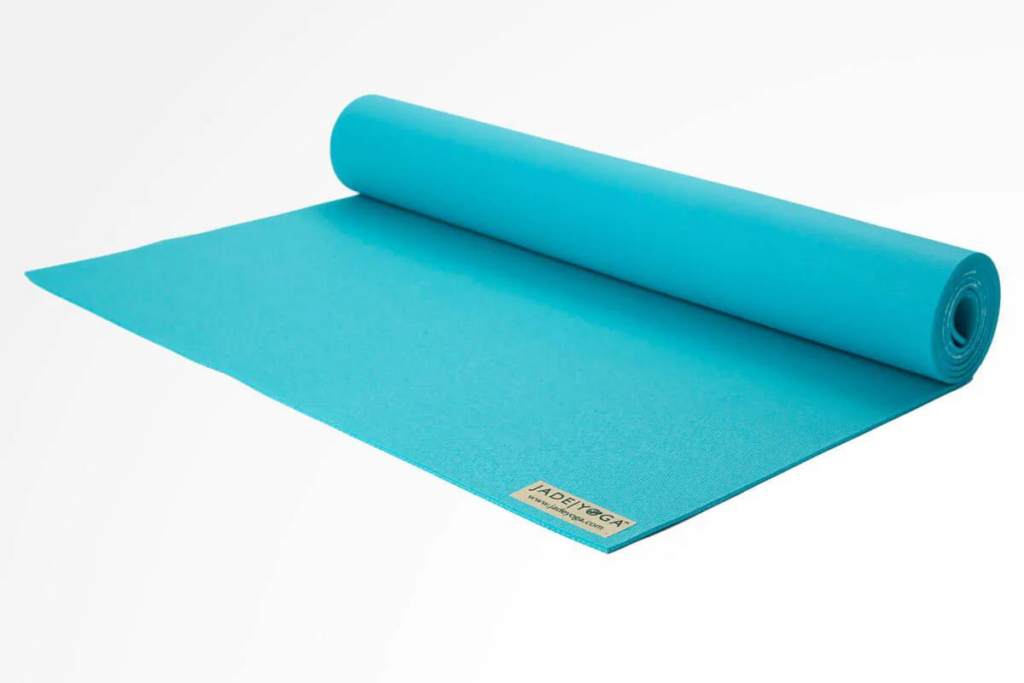 I gotta give two options here. The Jade loyalist swear by the Jade Harmony for sweaty paws. I have practiced on a Jade Harmony a few times, but I don't own one. Yes, they are quite grippy, but my personal choice for the best grip on a yoga mat is BYoga's BMat (15% off with JENBELLYOGA). I have the BMat strong (gifted), but the BMat everyday is also a great option. All of these yoga mats are great for sweaty palms and soles, and sweating it out in a hot yoga class.
Best Alignment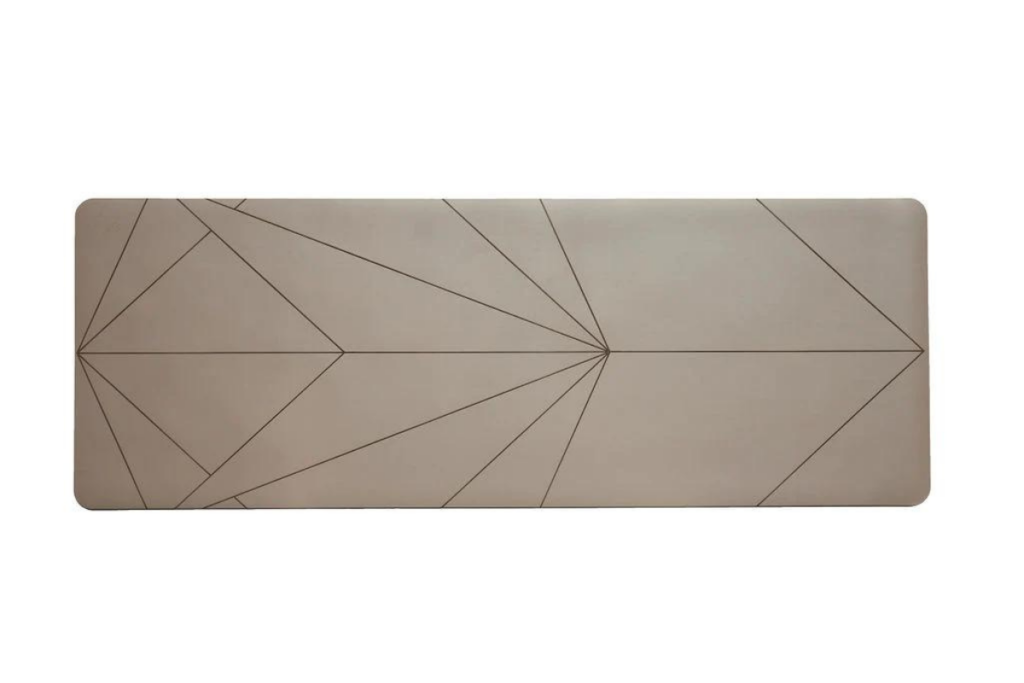 Alignment mats have become very popular over the past few years. Most of them have a natural rubber bottom and a polyurethane top. They have what is called an "open cell" top to allow your sweat to penetrate the top layer so you're not trying to updog on a slip-n-slide. I have a few alignment mats from a few different companies. Most have a printed design that stays in place, but the surface can stain with use and improper care. These mats can only be rolled in one direction, and can't hang outside in the sun for too long.
My fave: TVLA (15% off with: Jen15 #gifted). Honestly, I just like the design better 🤷‍♀️. And that's all to it.
Best Overall
Saving my faves for last: Manduka Pro (purchased 2 and 1 gifted) and Manduka Eko (all purchased). Both of these come in the original (thickest), lite (medium), and superlite/travel versions (extremely thin).
Manduka Pro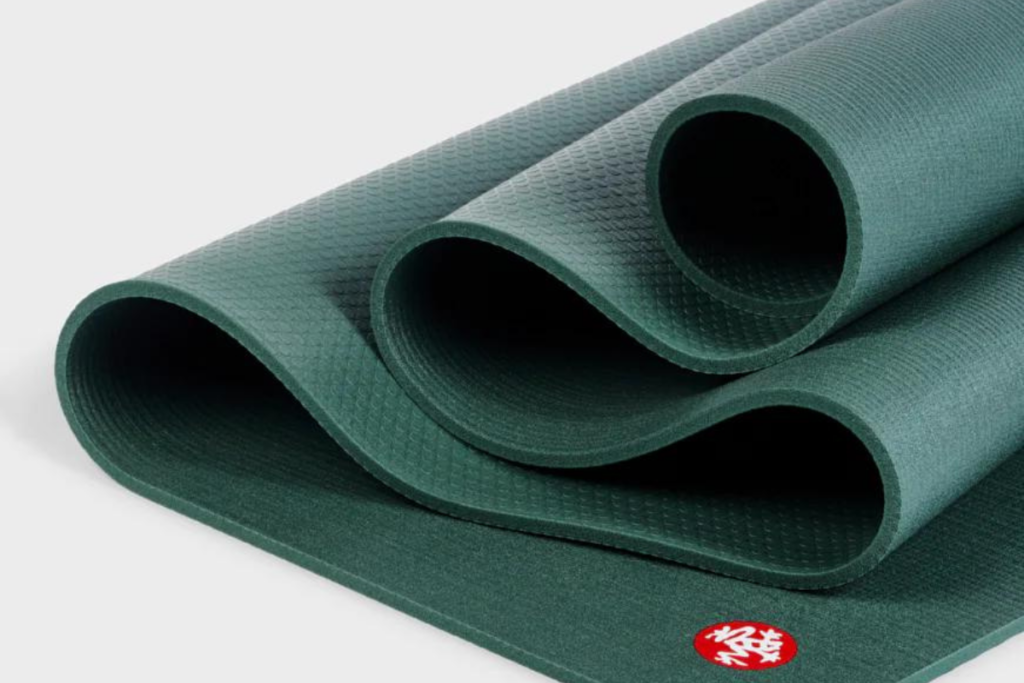 This is currently the mat I use most of the time. I keep one in the car (pro), I keep one on my deck (pro lite), and I have one (pro lite) in my yoga space. This mat is durable and comes with a lifetime guarantee. It's a "closed cell" mat meaning your sweat and bacteria will not get absorbed into your mat. As much as I love this mat, there is one major con:
It needs to be cured. (Directions come with the mat. It just requires some sea salt and a little time. I'll make a video and post it soon.)
Now for the pros:
Lifetime guarantee
You can leave it anywhere
You can roll it any way you would like
Extremely durable
Easy to clean
Easy to keep clean
Manduka Eko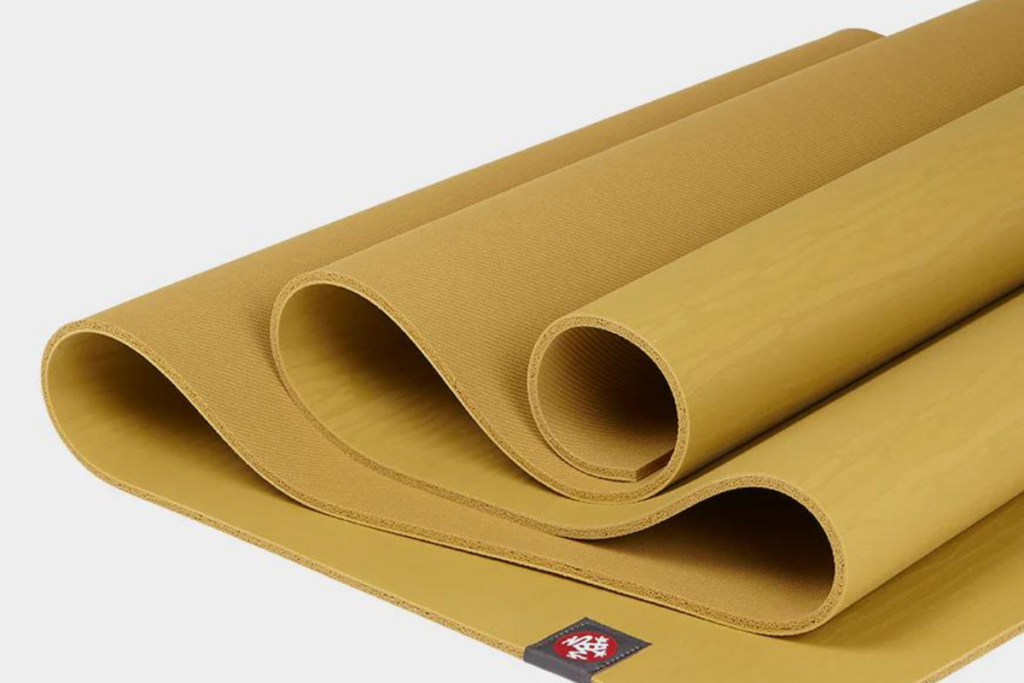 My first love. (Yes, I'm biased 😜) This mat is made from natural rubber, which makes the surface super grippy. I used my first Eko for over 10 years, taking hot yoga classes, regular yoga classes, hauling from one class to the next, and all over the world before replacing it.
The biggest con:
It does not do well with prolonged exposure to direct sunlight.
Having lived in the sunshine state for a few years, the Eko wasn't the best option. When I switched to the Pro, sun exposure played a big role.
The pros:
Great grip
Doesn't need to be cured
You can roll it how you would like
Easy to clean
Easy to keep clean
Best mat for Restorative Yoga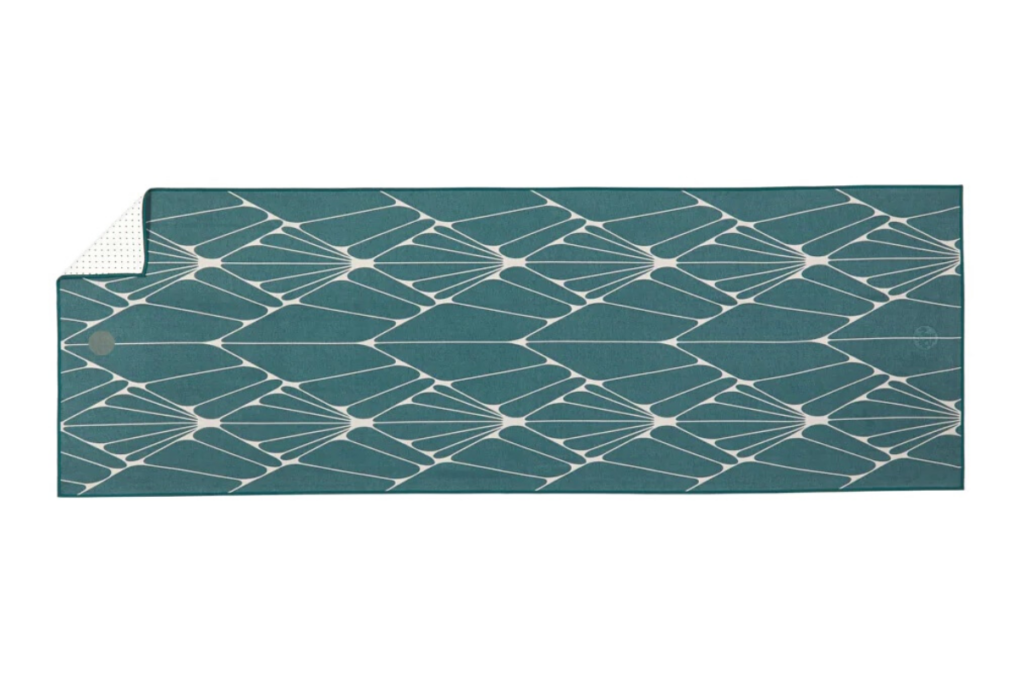 Do you need a mat for Restorative yoga? You need a mat to define your space, and you may enjoy the extra padding between your sit bones and the floor after holding a seated wide-leg forward fold held for 10 min. You can pick any mat that fits your needs. Go with the budget mat options above, or if you also practice hot yoga, get a mat with some grip too. You can use a plain yoga towel (purchased) or one with grip (10% with Jen10 #gifted).
Best vinyasa flow yoga mat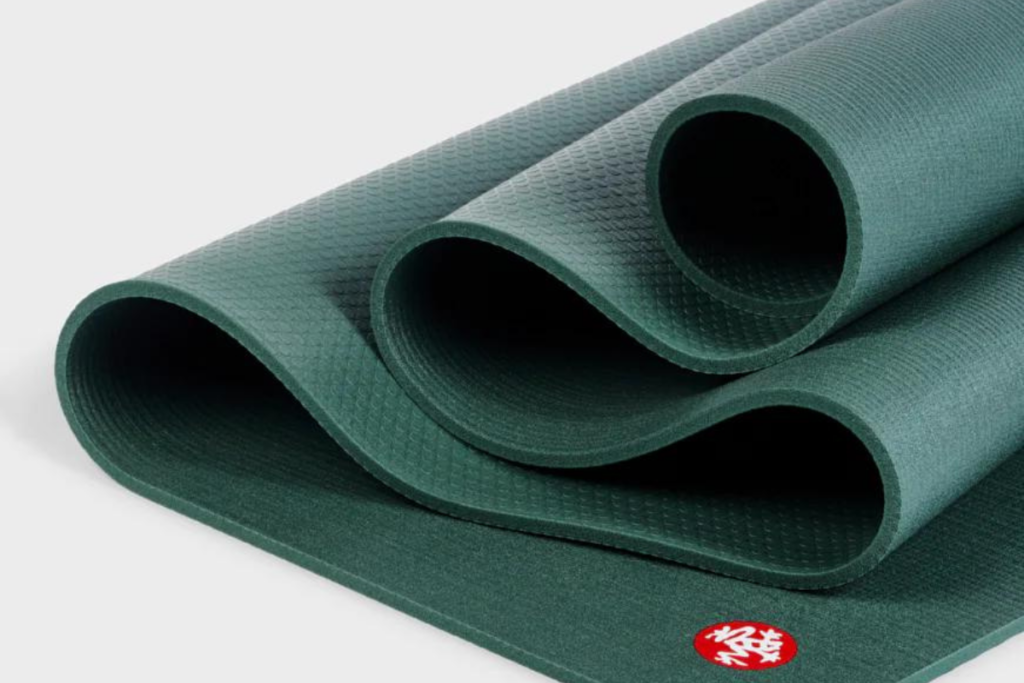 Manduka Pro (15% off with JENBELLYOGA). It's got grip and padding. It can handle your sweat, and it won't tear up your skin if you're not layered in sweat. If you skipped to here and want to get my more detailed analysis of the mat go back and read it here.
Best hot yoga mat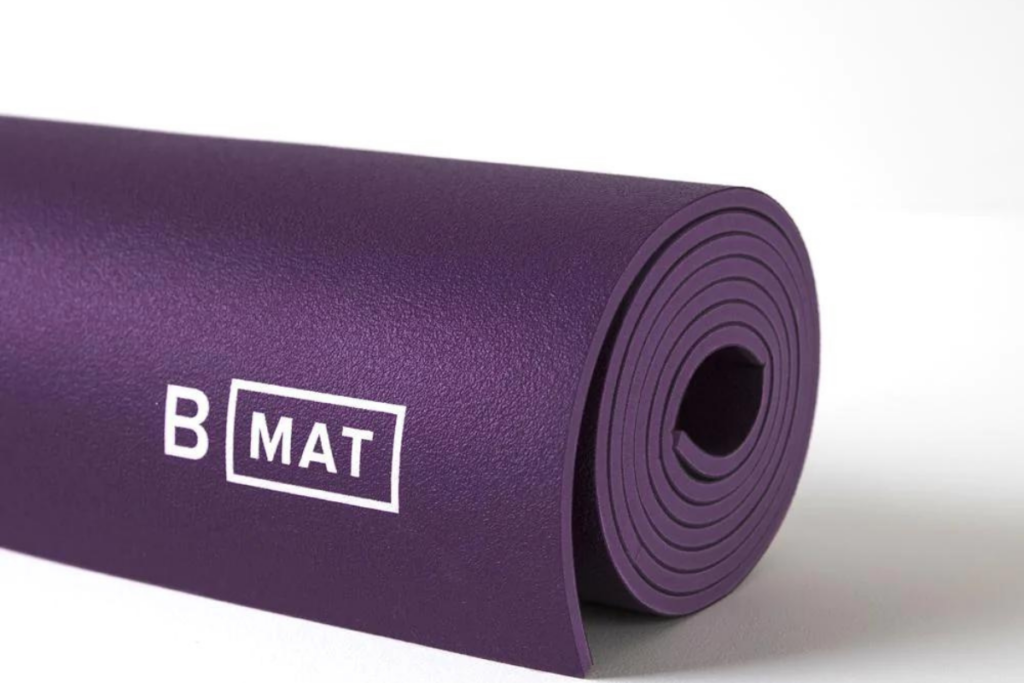 For stationary or Bikram yoga grab a cork yoga mat. It's antimicrobial and grippy when wet. If hot vinyasa flow is your thing, my choice is the BYoga mat (15% off with JENBELLYOGA #gifted). It's got great grip (sweaty or not) and is durable.
Best travel yoga mat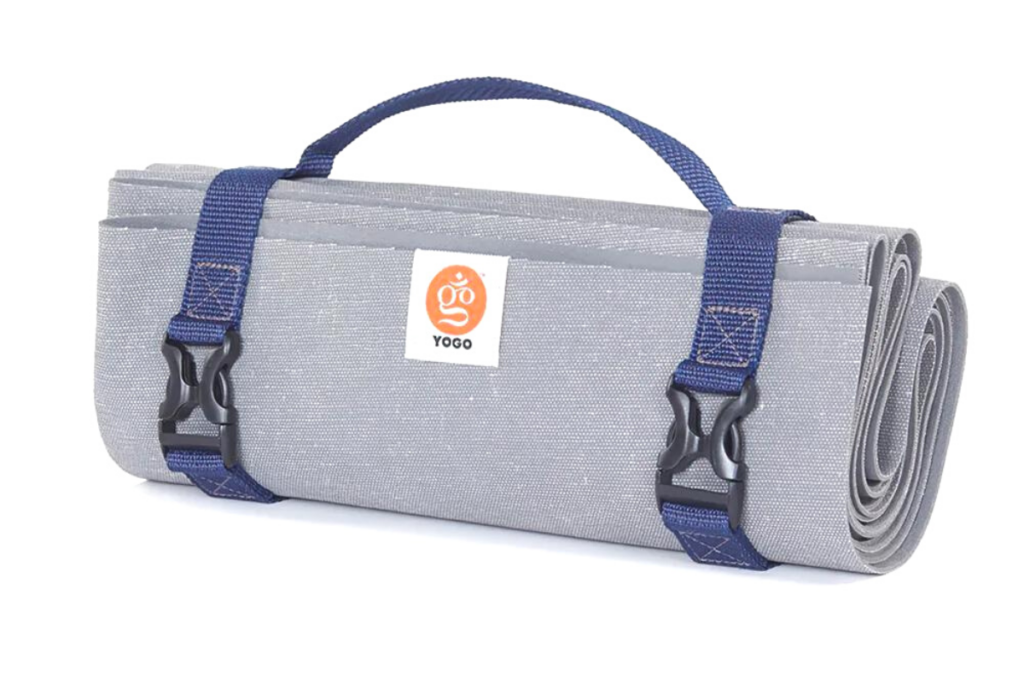 If you haven't picked up how much I love Manduka, this must be a surprise: Manduka Eko Superlite (15% off with JENBELLYOGA #notgifted). It's easily folded and great for layering on top of hotel room carpet. I traveled with mine regularly before I started the Instagram gig. Now, I have to travel with specific yoga mats.
Another great option (NEW DISCOUNT CODE: 10% off with JBYOGA10) is the Yogo travel mat. I have one (#gifted for an Instagram challenge), and it's excellent! It has straps sewn on it so it can be folded and snapped into the size of a small purse, plus the straps can be used to hang the mat up in the shower to spray it off and allow it to hang dry.
Hopefully, this post helps guide you to the best mat for you. Don't forget to check out the video to see some of these mats in action. If you're looking for discounts this page or my linktree have them all listed. Now the next time you borrow a mat at the gym, just think what might have been on that mat before your hands and face 🤔.
Want more recommendations for yoga and self-care books and products? Sign up for my newsletter below and get a copy of my 1 min checklist to reduce stress, anxiety, and pain + guided audio.
1 min Anxiety Relief
Sign up for my newsletter and get my 1 min checklist to reduce stress, anxiety, and pain + guided audio.
Privacy is important. I won't sell your info. I promise.